The day had finally arrived for me to go and photograph this little man's momentous occasion. His mother, Arionna, had been planning for a very long time, and had approached me way back in August to be their photographer. I opened the doors to the cheeriest most colorful setup, and could not wait to start capturing the fun! The theme was "Little Monsters", and Arionna had gotten very creative with every aspect of the decor. From little juice bottles with googly eyes to cake pops of the same nature, this theme could certainly be seen everywhere. Of course the most important detail of all, Myles' personal "smash cake", was a very round, very blue, and very frosting-filled monster. This cake, made by Arionna's talented mother-in-law and Grandma to Myles, stared into my soul as I got up close and personal to photograph it.
Myles was very aware of me and my big flashy camera, and would make a little stink face after the flash went off almost every time! Cutest thing ever! The poor little guy spent the first 30 minutes of his party napping on Grandma and Grandpa, but was soon in better spirits after he had his lunch. Guests both young and old all seemed to be enjoying their time at the party, and I even got to spy on a couple cutthroat games of hide and seek amongst Myles' big sister and her friends.
After lunch, Myles walked around the room proudly in his cute little green monster slippers, and soon was diving into all of his wonderful presents. This time was also enjoyed by all, and was such a great display of the outpouring of love this little guy had all around him at such an early age. After a brief break of walking with Grandpa, it was then time for the main event - the cake smash!
Grandma proudly brought Myles his cake as everyone sang to him, and then it was all eyes and ears to see if he'd dive right in or be a bit more cautious. He went with the latter to begin with, just poking at the cake with one tiny finger. Then, with some guidance from big sister he was quickly smashing, squishing, and smearing his way through the this big blue dessert. Everyone erupted with laughter and cheering only adding to Myles' glee, and he smiled the biggest smile through frosting-stained teeth.
To close this successful birthday out, Myles took a ride on his new four-wheeler, enjoyed some high-flying with Mommy, and so graciously allowed me a few moments for family photos before wanting to be left alone.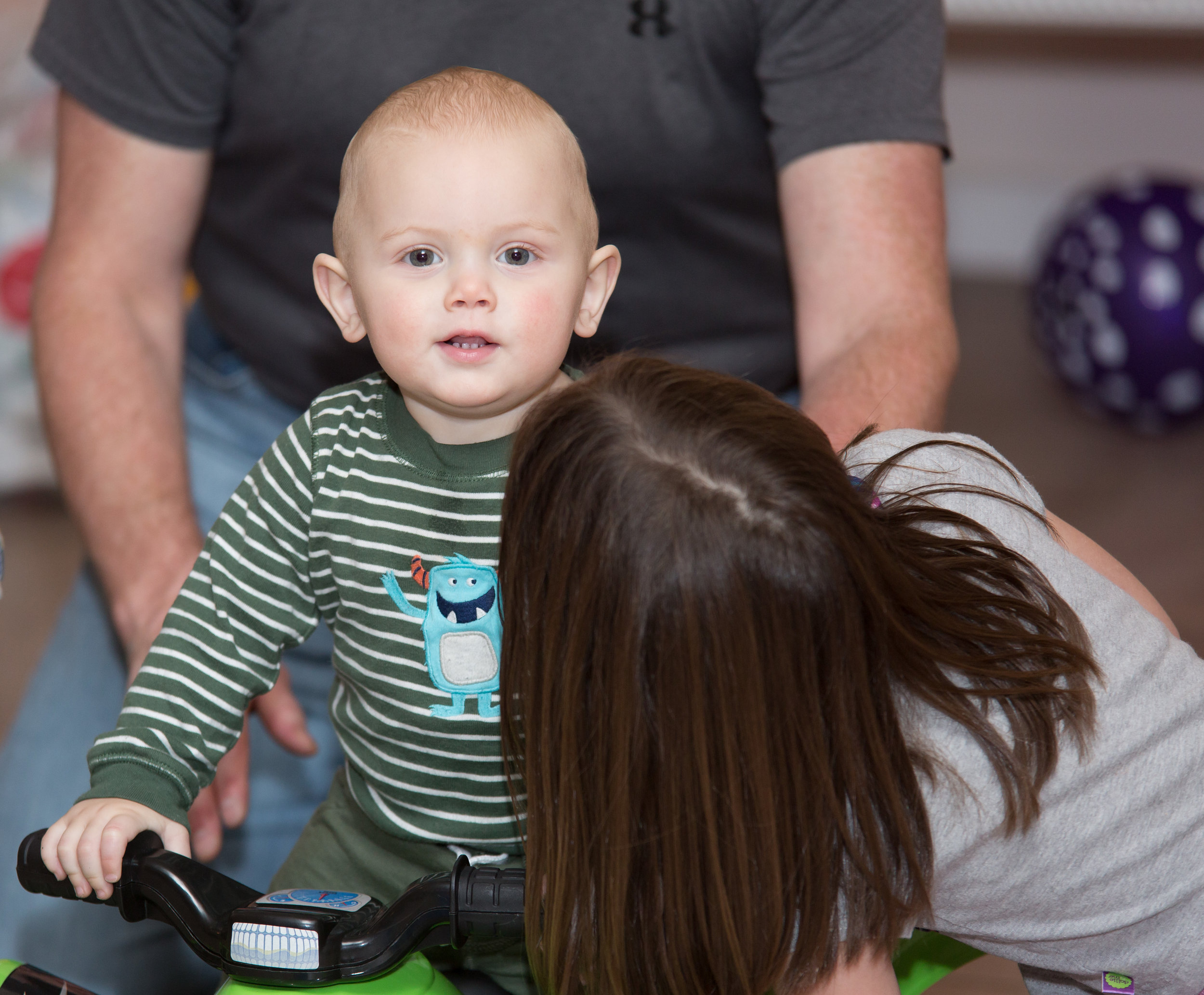 Thank you to everyone who not only put on and attended Myles' birthday, but also truly enjoyed themselves! Your happiness and emotional involvement in days like these make for some of the best memories that I am able to capture and deliver to the family. I hope every member of Myles' family realizes how lucky they are to have this little boy in their lives, and I hope you all will treasure these memories for years to come!