The soft cloudy light of this September morning filled the Cayuga, NY home where Samantha was to prepare for her marriage to Mark. Her beautiful bridal outfit waited patiently to be worn by this equally beautiful woman who was more than ready to take this next step in her life. Other lovely little details such as pearly shoes, a bouquet arranged by the bride herself, and the matching bouquets of her bridesmaids also temporarily decorated this home in expectation of being shown off.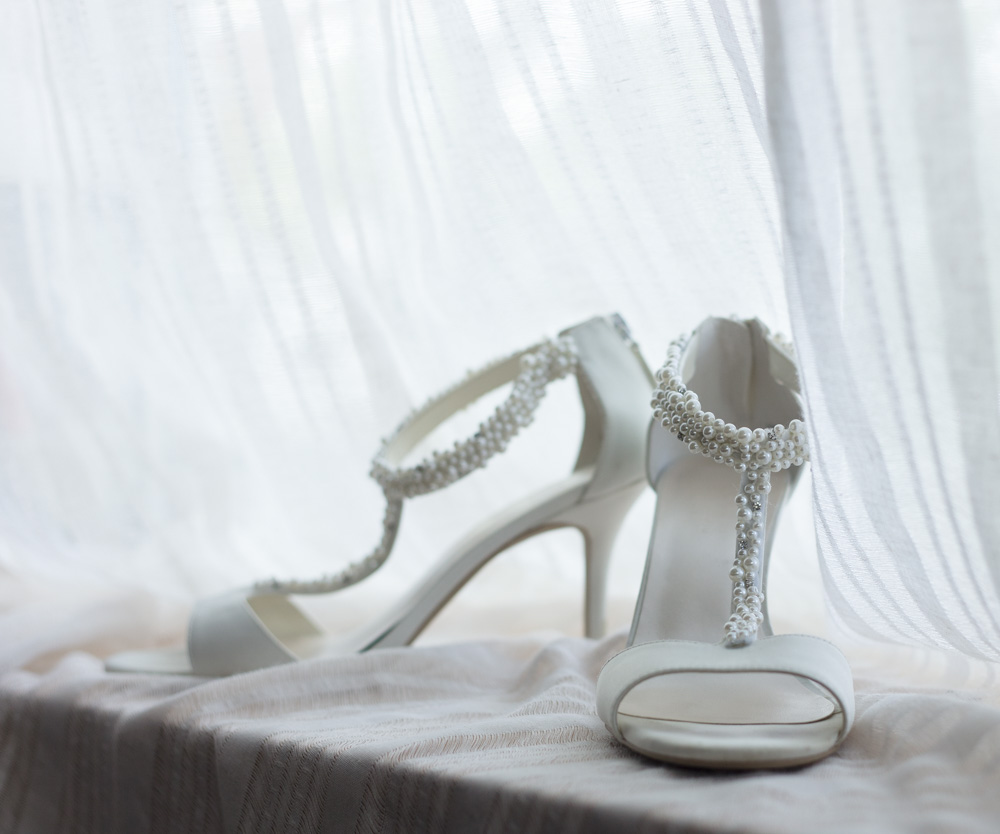 One of the three dogs who lived in this home spectated the events, as the flower girl took sneak peeks of Pocahontas in between hair and makeup touch-ups. She also helped her mother, a bridesmaid, with her makeup. Soon it was time for Sam, the woman of the hour, and in fact woman of the day, to have her dress zipped and tied up by her mother, Jenny. A few touching moments were shared between the two, then the final element to Samantha's outfit was added - her grandmother's gorgeous earrings. Samantha stood in all of her splendor, beaming for the camera and contemplating what was ahead.
In the meantime, my lovely second shooter Amanda, was busy documenting the guy's side of things at the Hilton Garden Inn in Auburn, NY. All was polished, ironed, and ready to be worn, as this fun group joked and laughed with each other. Each member of the groom's party also had his own special pair of neon green sunglasses. After the guy's group, including our handsome groom Mark, was ready to go, Amanda caught some excellent thoughtful moments of Mark alone in the church right before he was to see his bride.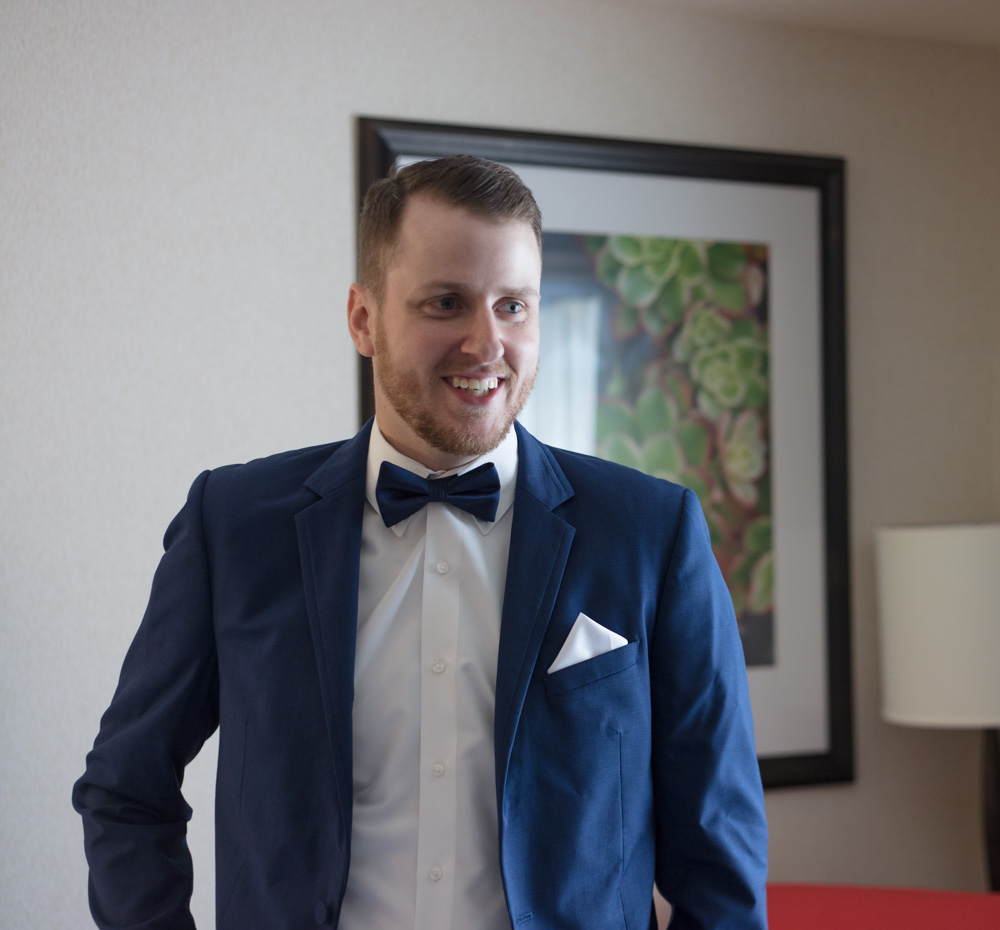 Samantha arrived at the Holy Family Catholic Church in Auburn, NY with just enough time for one special moment before her ceremony - her first look with her Father Stephen. You could see the strength of this father-daughter bond right away as Stephen beamed a smile at the first sight of Samantha in her wedding dress.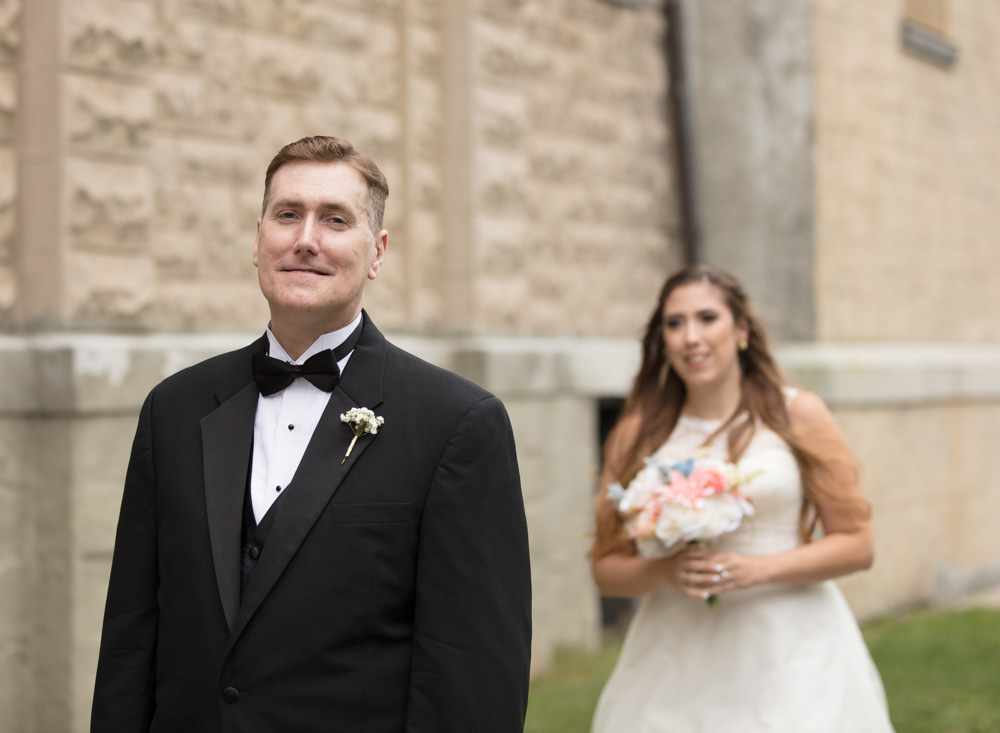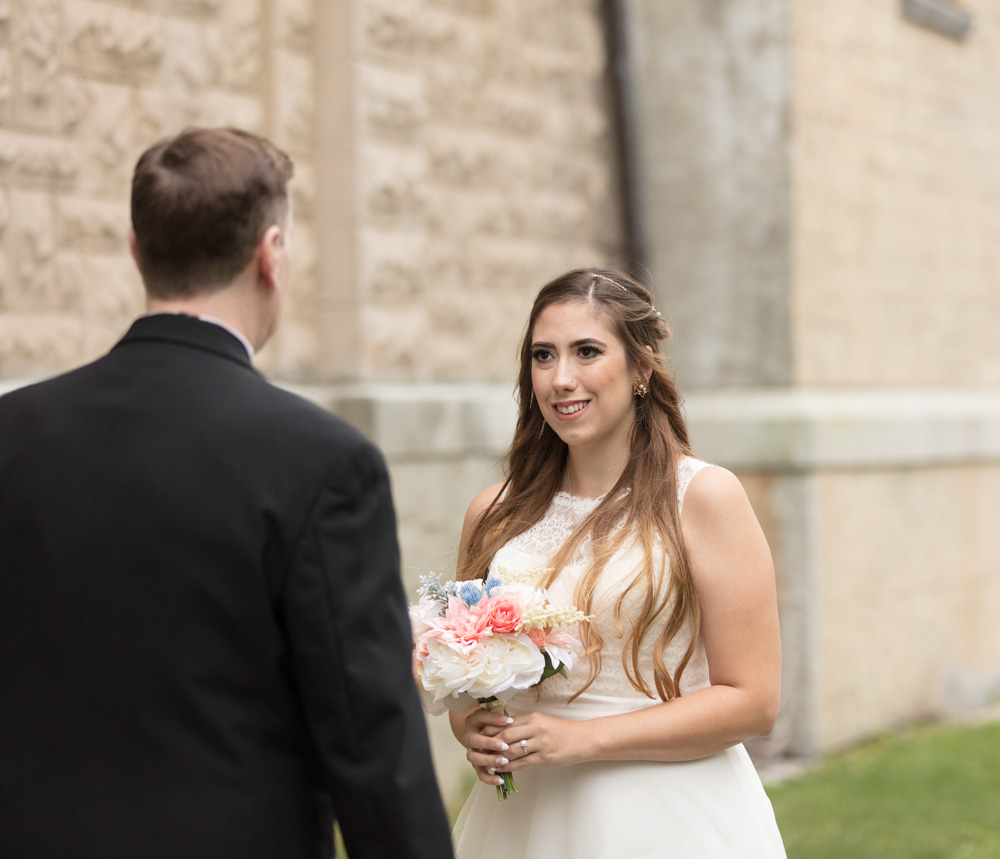 It was finally time for the ceremony to begin. The candles were lit by both Samantha and Mark's mothers amongst a table of photographs of those who had passed on. This brought awareness of the utmost importance that those family members were also watching over this day with just as much love and happiness as those physically in attendance. The processional finally came to its end as Samantha and her father walked down the aisle to an overjoyed groom, Mark. The church was full of family and friends, but Samantha and Mark only had eyes for each other and were completely caught up in the moment. The ceremony concluded with a joyful kiss followed by instant celebration after processional. The youngest of the two ring bearers wanted to be sure he let everyone know as well, "Don't worry ladies, I'm still single."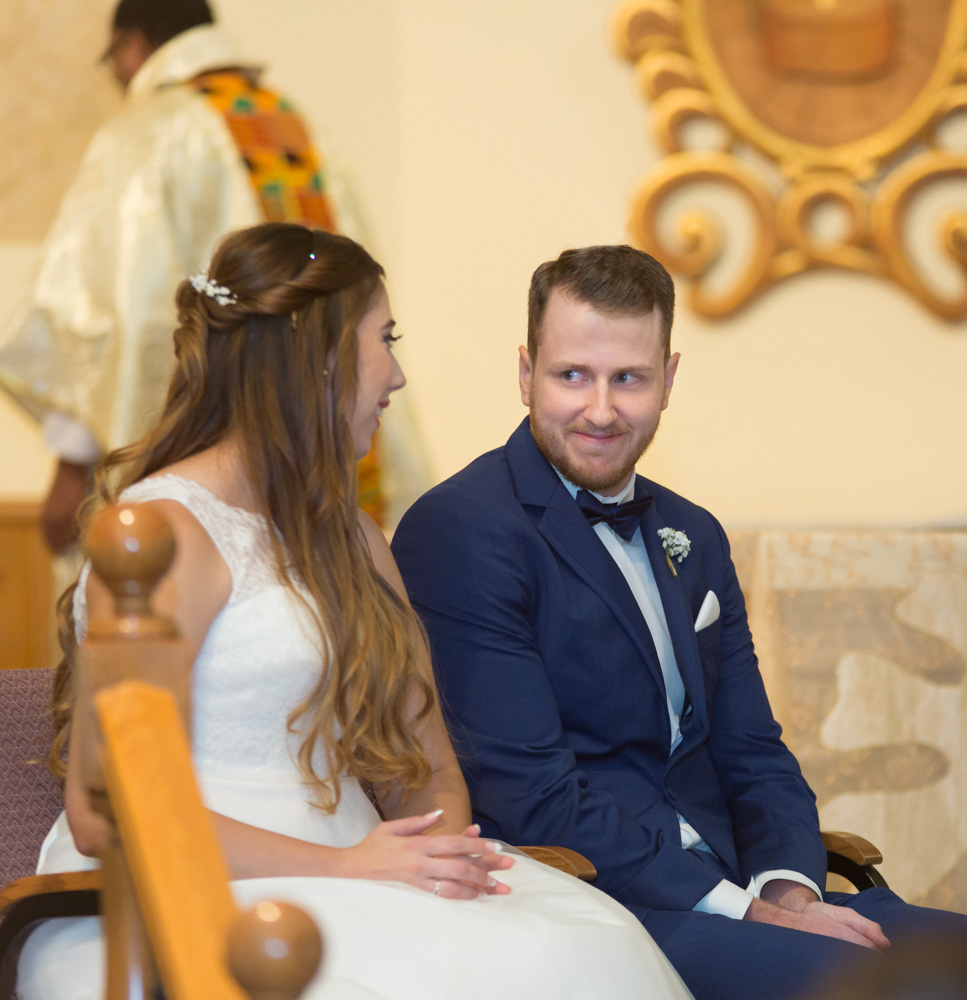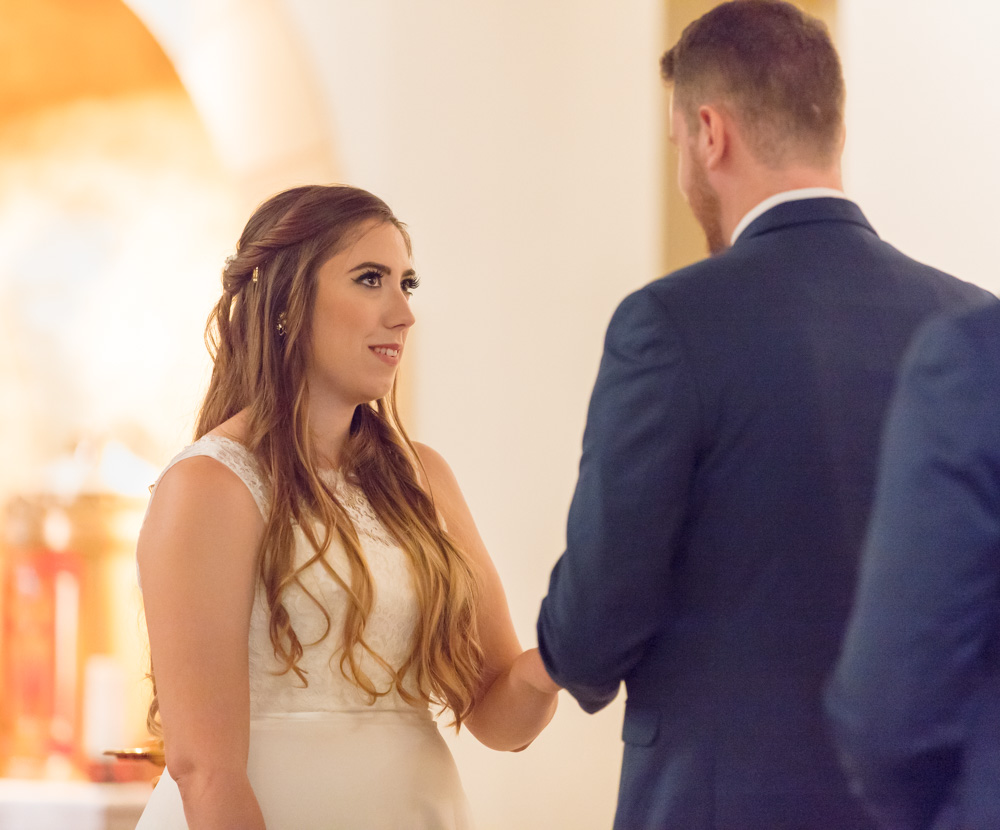 Samantha and her girls began the post-ceremony photos near the Carriage House Museum, and then the whole party got together for a series of fun shots both at the same location and up the road a bit at the Cayuga Museum's stone steps. Onlookers in the cars going by on the nearby streets beeped and shouted their congratulations to the newlyweds. For a few quiet moments, I sent the wedding party back to their limo and allowed Samantha and Mark to enjoy time alone with just each other. This is so important to do on your wedding day, as it brings the wave of good feelings associated with marriage to the very forefront, aside from the many other distractions. Samantha and Mark were so natural and comfortable with one another. You could tell that this love was built to last.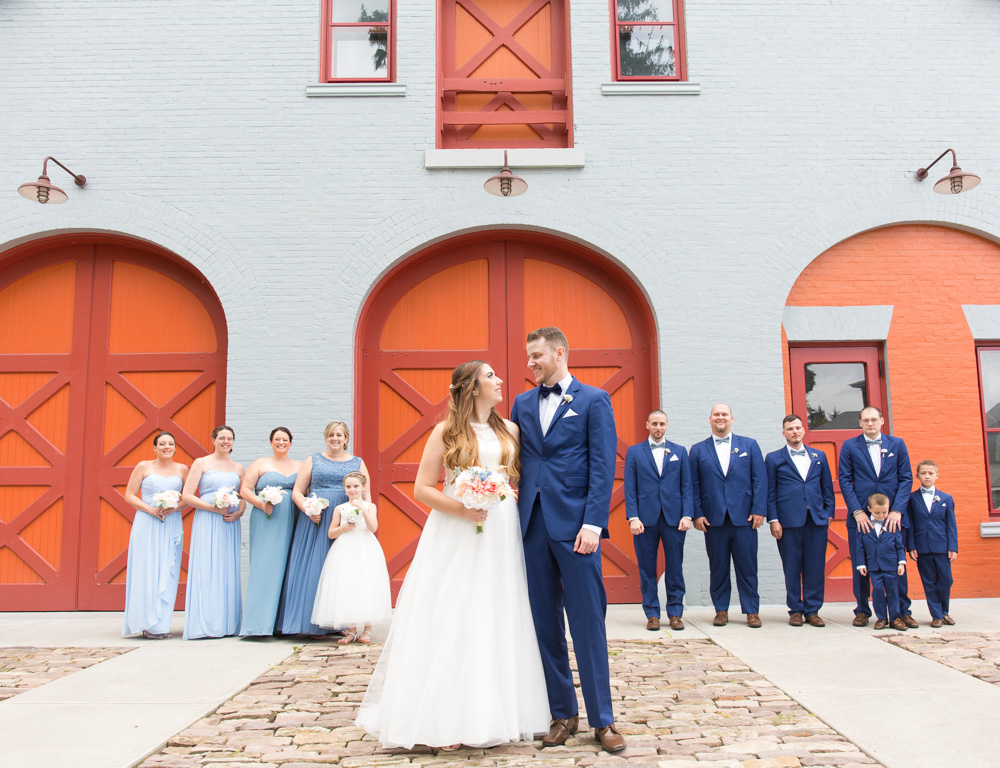 I arrived back at Samantha and Mark's Sunset Restaurant reception, and documented all of their fun details. A garden theme, many reminders of the fact that they were now, "Mr. and Mrs.", and the prettiest flower-adorned cake were all waiting to add to this celebration. The new couple was triumphantly introduced for their first dance followed by a father-daughter dance. Dinner was served, guests were smiling, and before long it was time to cut the cake. Let's just say that Samantha and Mark were not exactly polite towards each other during this tradition, but seemed to have quite a fun time making a sugary mess. All that was left now was the dancing! Dollar dances were a great success, as countless guests came to offer their support and love to the new couple. Samantha kicked off her shoes and both her and her new husband proceeded to party the rest of the night away - as they should!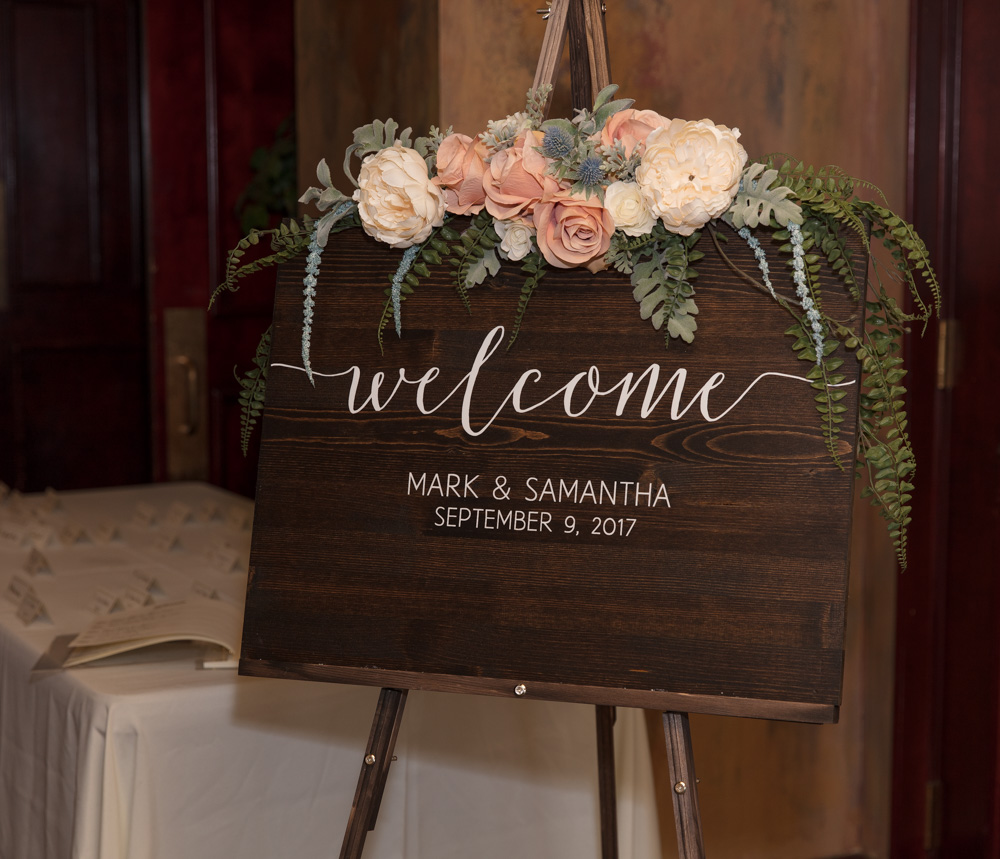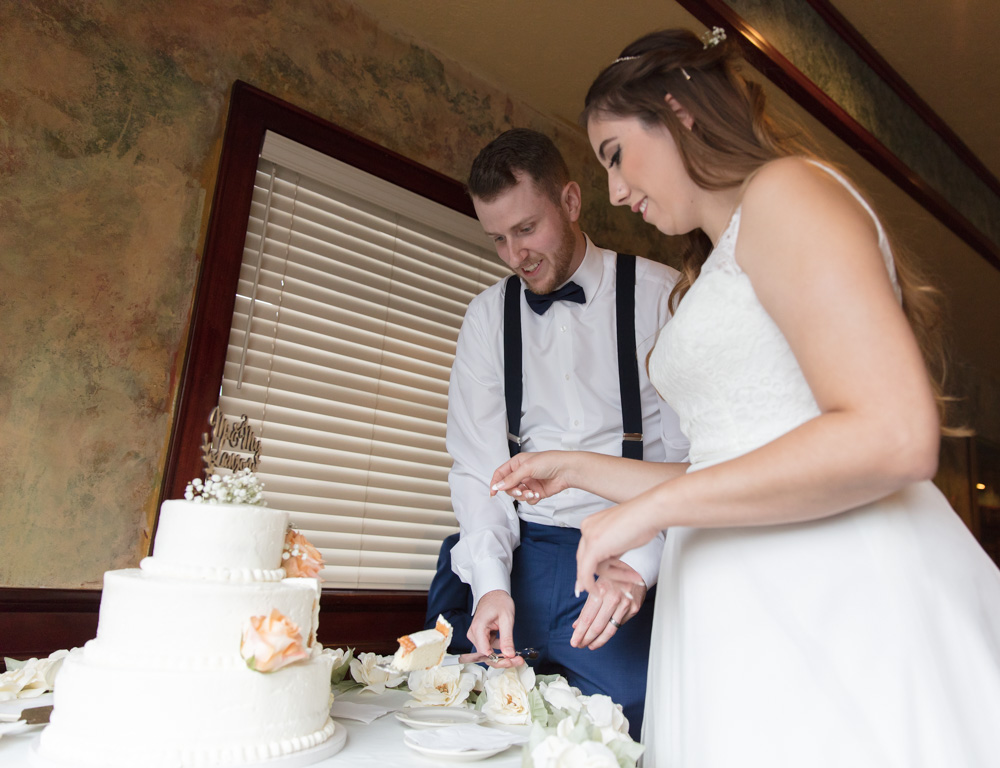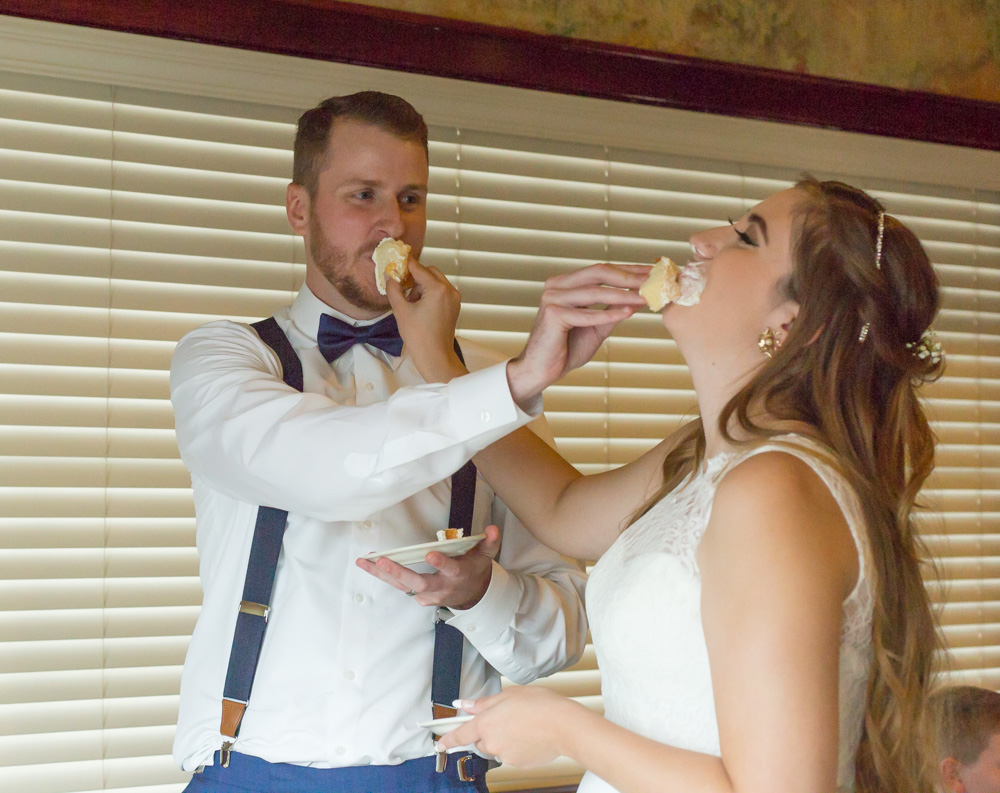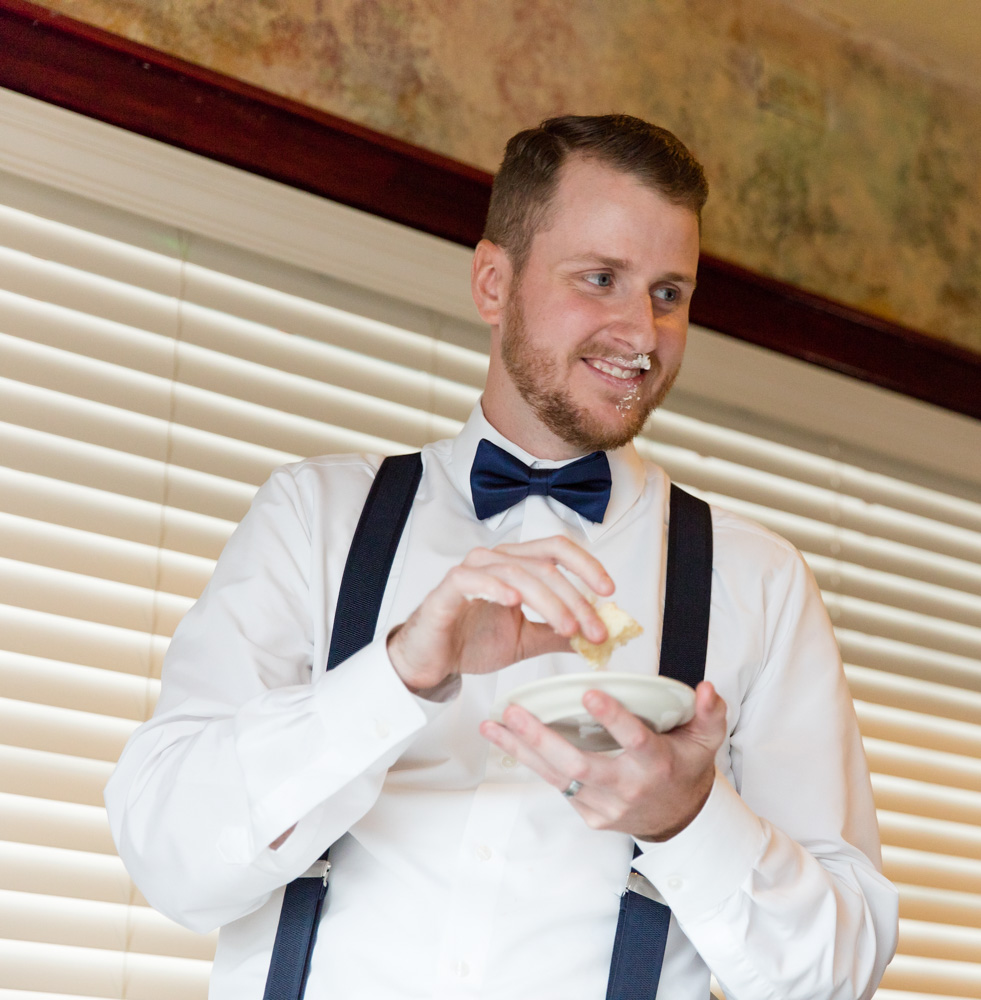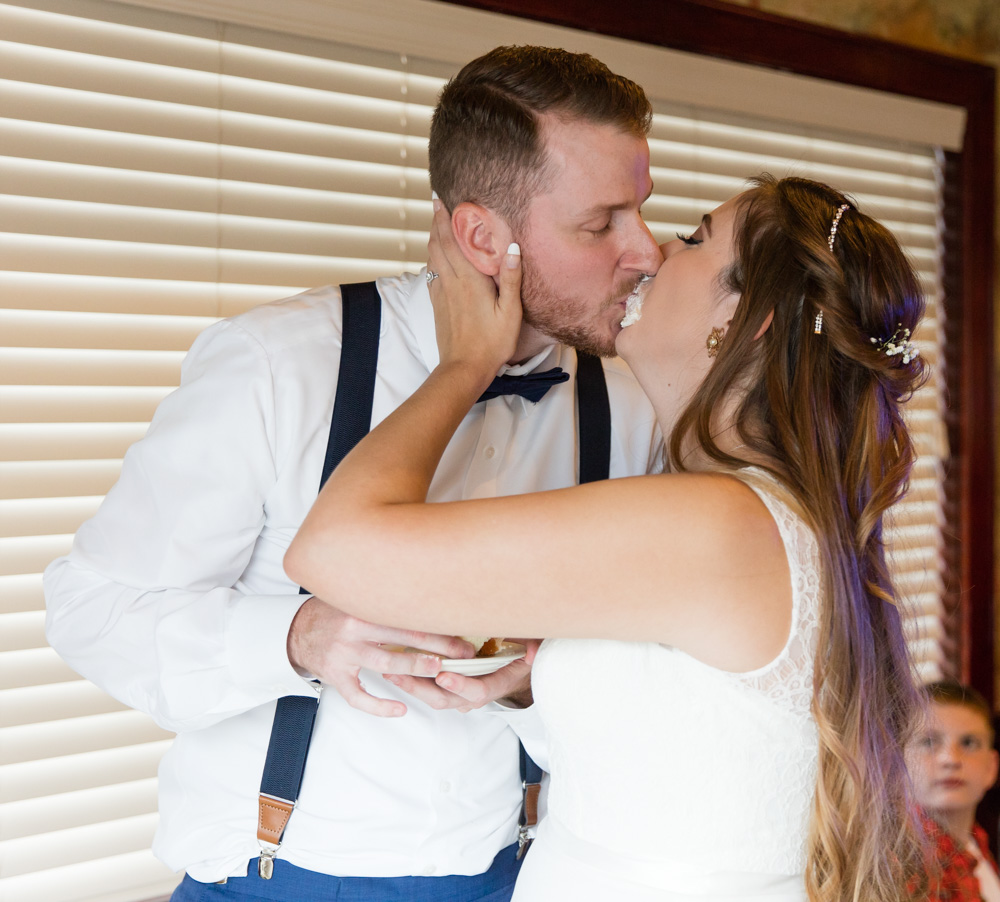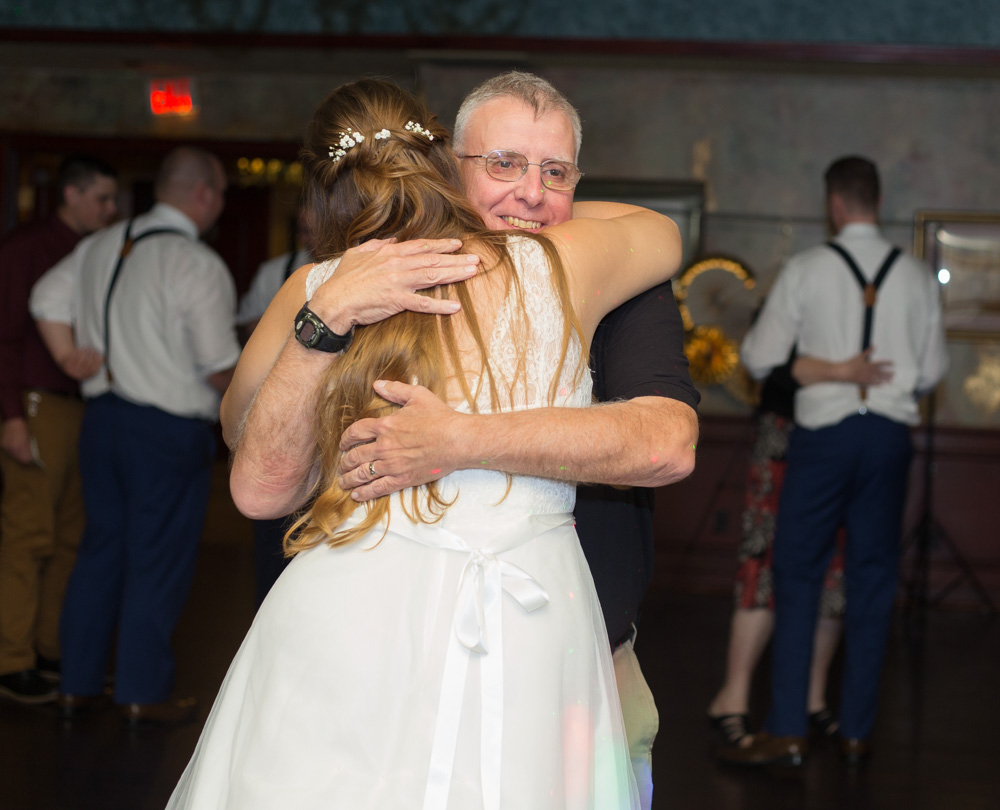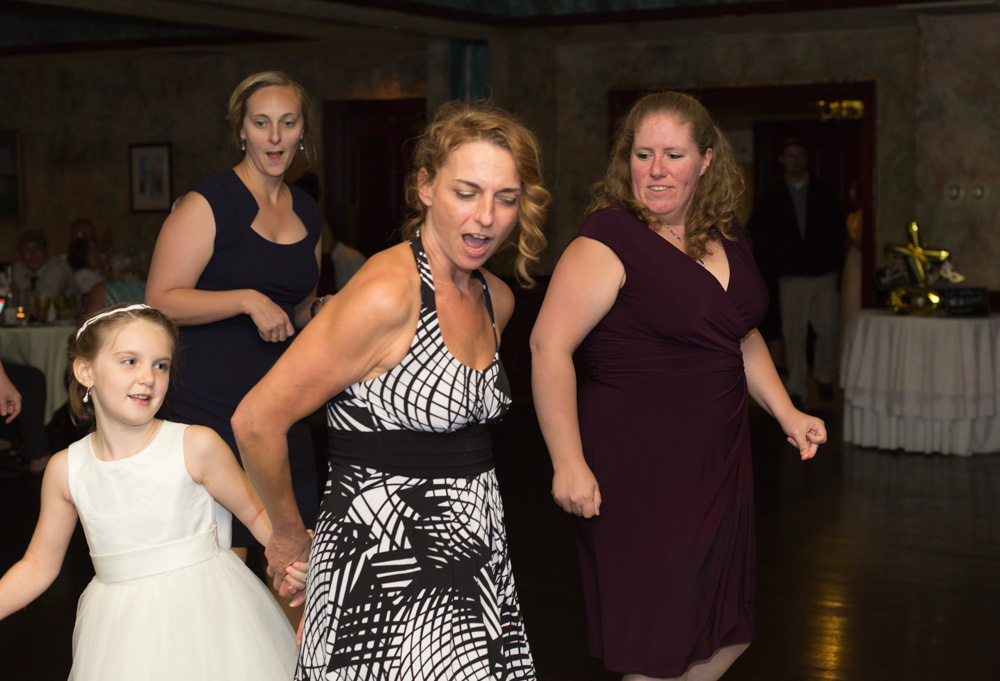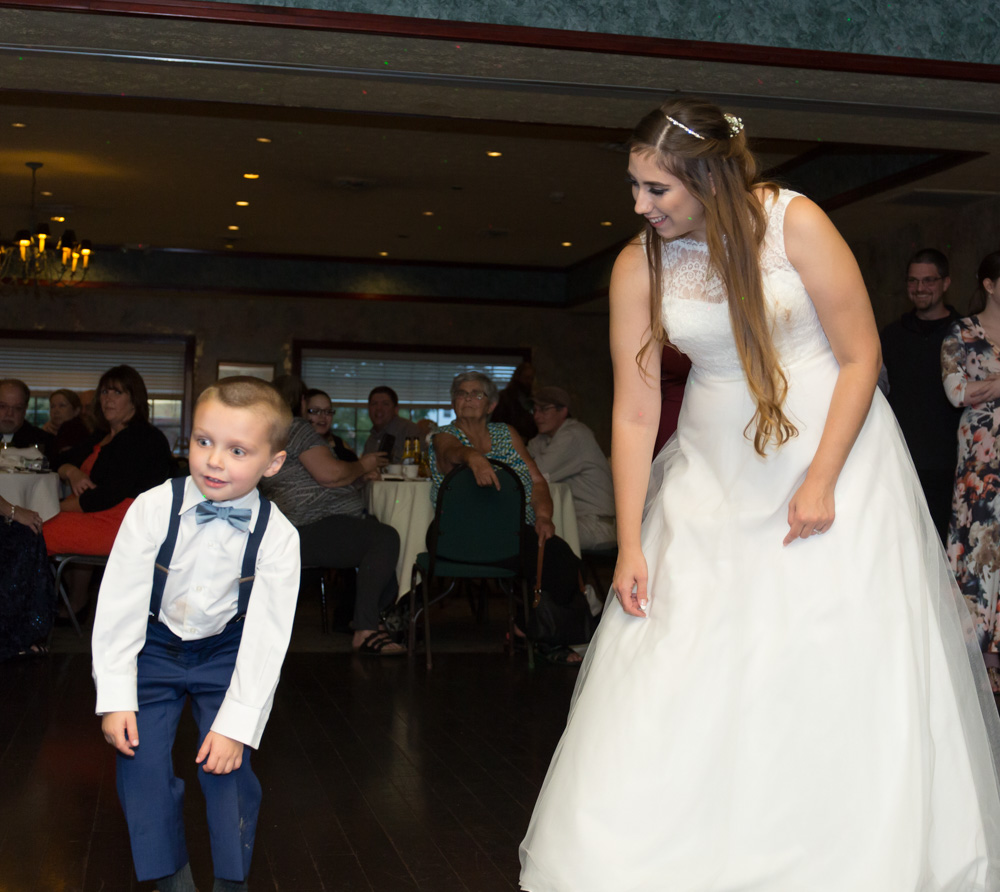 Thank you from the bottom of my heart Samantha and Mark for allowing me to be an important part of your day! I can't wait to show you as the days draw nearer even more memorable images. Thank you as well to my right-hand woman and dear friend, Amanda LeBeouf, for traveling all the way from Massachusetts to help me photograph this day. I could not have done it without you, girl!